Sakura Bloom Ring Sling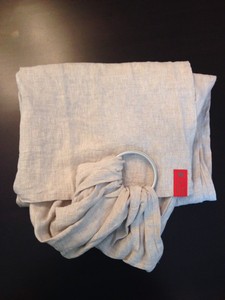 ---
Gorgeous Sakura Bloom sling in Maple (creamy beige colour). This colour has been sold out everywhere for months. Hard to find.
Includes an instruction booklet & is beautifully packaged in a keepsake box. Belgian linen. Excellent reviews.
Great preowned condition (I had 2 Sakura bloom ring slings and 2 carriers so it was not used much at all).
Sling features:
• birth- 35 lbs
• one size fits all
• can be worn in 5 positions
• excellent for breastfeeding
• machine washable
• made in USA
simple to use and easily adjustable so that parents may share a sling. Very easy to nurse in a sling. The tail of the sling makes a great privacy cover for nursing (and a great sun shade as well!). Or create a sleek look by wrapping the tail of the sling around the rings. Soft, natural, strong, and luxurious. Very elegant and versatile. Hand washed and ready to wear.